Click on a link below to jump to that section:
Safe Access Plan (Drop-off/Pick-up)
Inclement Weather Plan

School Safety Procedures
Jordan School District has standardized procedures in place for emergency response in all of its schools. All school personnel, substitute teachers, and students are trained annually to respond appropriately to five main types of emergencies: Earthquakes, Fires, Environmental Hazards, Emergencies near the building but not effecting the school, and Unwelcome Intruders. Individual schools are expected to fine-tune details specific to their sites, but teachers, substitutes, students, district personnel and emergency responders know what to expect in the event of an emergency, regardless of where they may be in the district.
Detailed emergency response information for all schools in Jordan School District can be found on the District's Student Safety website. The Jordan District Safe School Q&A and the Incident Command Resource Book links are especially insightful.
Year-round elementary schools in JSD are required to hold at least six fire/evacuation drills per year and at least one drill for each of the other main types of emergencies. Our school typically holds at least two annual drills for each of the other types of emergencies so that all students, regardless of track, experience at least one. Emergency kits provided by our PTA are located in each classroom and every school is required to have several staff members certified in CPR, First Aid and the use of an AED if one is available.
Emergency responders in each of the communities served by Jordan School District have ready access to critical information about each of our schools (floor plans, gas/electric/water shutoffs, contact information, etc.). Medical and contact information specific to individual students and families is housed both on and off school campuses – readily accessible in the event of an emergency.
Should an emergency at our school necessitate evacuation to a secondary site, arrangements have been made to relocate our students to the LDS meetinghouse on 114th South just east of Redwood Road.
Your first thought in an emergency situation may be to immediately rush to the school or LDS meetinghouse in search of your child. That response is likely to compound the problems emergency responders and school personnel are dealing with. Plan to wait for notification from the school district via Skylert before coming for your child. If communication channels have been disabled by an emergency (say, an earthquake), keep this in mind: the engineering and construction specs of our school are such that it has been designated as an evacuation site for the community. It is considered to be a relatively safe place. Emergency responders and resources will be channeled here. Give it at least an hour before you come looking for your child. Patrons wishing to pick up children after an emergency should plan to present picture identification without exception. Our school staff is trained and expected to provide care at the school for students who are not picked up – for days, if necessary.
---
Safe Access Plan
Student safety is of great interest to all of us. Please review our school's procedural expectations for safely picking up/dropping off students with every driver who may assume that responsibility this year.
DESIGNATED PICK-UP/DROP-OFF AREA

The pick-up/drop-off area runs across the front of the school (see attached picture).

UNAUTHORIZED PICK-UP/DROP-OFF AREAS

The east lane in our pick-up/drop-off area is a pull-through lane. Students should never enter/exit a vehicle occupying the pull-through lane.
The bus lane on the north side of the school
Skyscape Way in the neighborhood to the south of our campus
School parking lots – unless the driver parks in a stall and personally walks the child across the crosswalk.

DROP-OFF PROCEDURES

The drop-off lane extends south across the front of the school to where it begins to curve east (see attached picture). Drivers should enter the drop-off lane single file and pull forward as far as possible, regardless of weather conditions. Children should be dropped off quickly. Drivers requiring more time to say goodbyes or sign papers are encouraged to pull into a stall in the parking lot so flow in the drop-off lane is not disrupted.

PICK-UP PROCEDURES

The pick-up lane extends south across the front of the school to where it begins to curve east (see attached picture). In the afternoon, early arrivers park along the curb to pick up children. Those who arrive later may wait in line to enter the pick-up lane or pull forward via the through-lane to occupy spots that open up further along the curb. Vehicles in the through-lane should not stop for any significant period of time. If an opening is not available along the curb, the driver should circle around and come through again. Students may not board vehicles parked in the through-lane.

RECOMMENDATIONS

Consider picking up and/or dropping off your child outside of peak times. Flow is best before 8:50 in the morning and after 3:40 in the afternoon (1:05 on early out days).
Follow the procedures and be patient – no question of convenience or inconvenience is worth injury to one of our children!
Be considerate and drop your child off in a timely manner. If you need additional time, pull into a parking stall and allow others to move smoothly through the pick-up/drop-off area.
Encourage your child to exit your vehicle curbside so he/she is never exposed to moving traffic.
Choose not to use your cell phone in the pick-up/drop-off zone.
When waiting for more than 10 seconds to pick a child up, please turn your car off. You'll save fuel and improve air quality in the pick-up/drop-off area.
Be considerate of crossing guards, student safety patrol and teachers on duty. They're doing their best to help keep your children safe.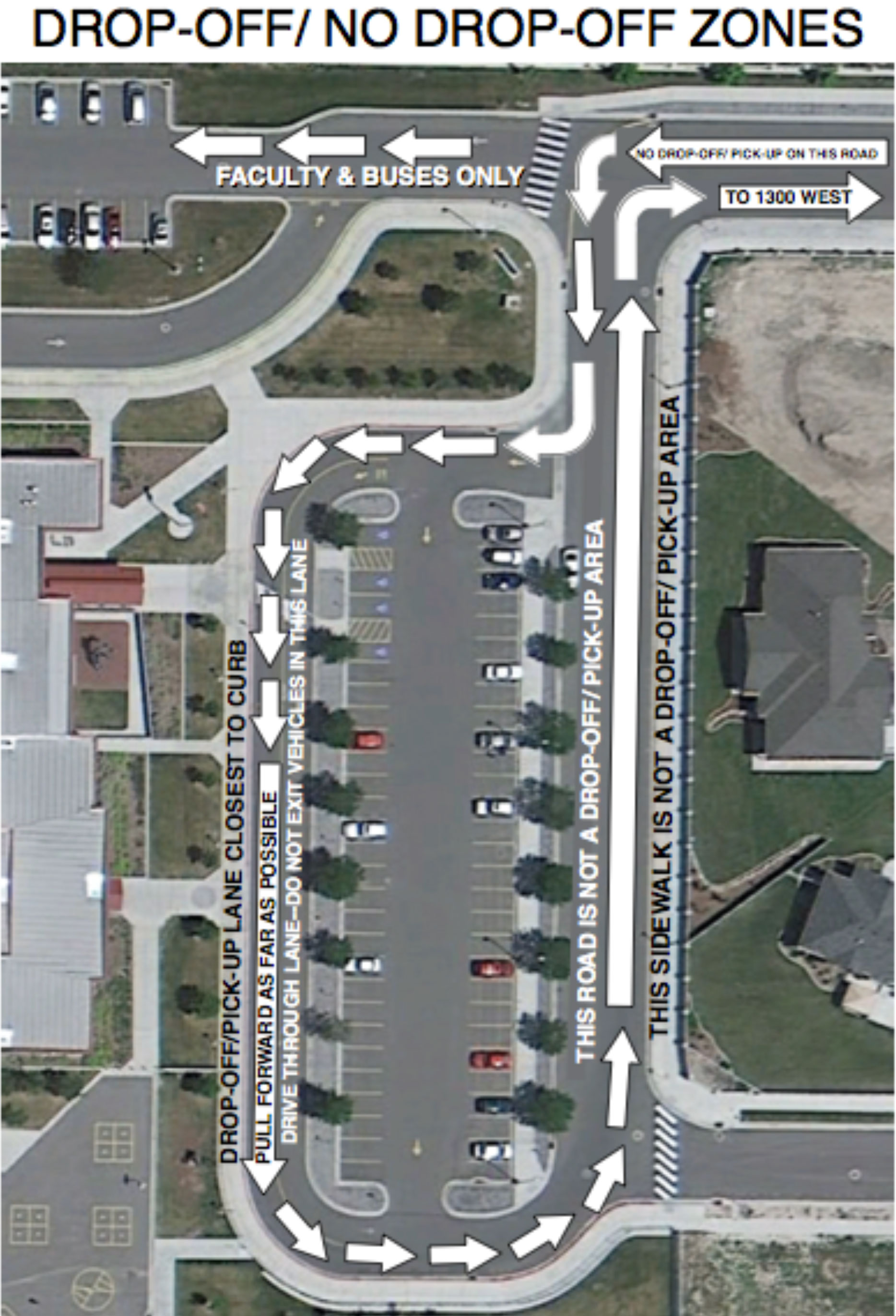 ---
Inclement Weather Plan
Our School Community Council reviewed and approved an inclement weather plan in 2023. Guidelines were established for "inside days" when temperatures (including wind chill) are too cold or air quality is so poor that children should not be outside for extended periods of time.
An "inside day" is recommended when the temperature outside falls below 20 degrees Fahrenheit (including wind chill). It is understood that individual students may need temporary or long-term accommodations for health conditions exacerbated by temperature extremes – high or low. Accommodations will be made upon parent request.
As per Utah Dept. of Health guidelines, all students will be kept inside when PM 2.5 levels exceed 90 (air quality). Students who suffer from asthma or other respiratory problems, including a cold or bronchitis, will be accommodated inside at lower PM 2.5 levels upon parent request.
Lightning in proximity to the campus, extreme winds, and/or significant wet precipitation are considered grounds for keeping students inside for all or part of a school day.
Students are invited to come into the building as they arrive on "inside" days. The cafeteria opens at 8:30.  On cold days, please don't drop your student off before 8:30, but preferably not until 8:45. After 8:55, students report directly to their classrooms. On poor air quality days, students remain inside the school for the entire day. The decision to keep students inside for cold temperatures can change depending on typical warming from the morning to the afternoon or the arrival of cold weather fronts.
Please send your child to school dressed for the predicted weather. We want our students to consistently enjoy the benefits of outdoor activity and fresh air without experiencing serious physical discomfort. Resources may be available to help outfit students lacking winter clothing. Please contact the main office if this is a concern.
Click on a link below to jump to that section:
School Safety Procedures
Safe Access Plan (Drop-off/Pick-up)
Inclement Weather Plan